Flying a long-haul flight is always physically challenging, but you can take some steps to make it easier. Even when you don't feel any difficulties while you're in the air, the consequences of neglecting your body's needs may appear later.
That's why you should consider wearing compression socks on plane trips . They are also incredibly beneficial for those who enjoy a more active travel-style that included hiking, running, cycling or mountain climbing.
The purpose of these special socks is to stimulate the blood flow in your legs. This is especially important during long, uncomfortable economy flights when your legs have to remain still for some time. This slows down the blood flow and may cause complications with your blood vessels, including pain.
This guide explains the importance of travel compression socks, how they work, and also lists some of the best compression socks for flying & travel. You never again have to travel and fly without them.
SAPA BEST COMPRESSION SOCKS FOR TRAVEL & FLYING
What Are Compression Socks?
Compression socks are not only meant for pilots, flight attendants, and airplane passengers. Since their main purpose is to improve your blood flow, people use them for various reasons.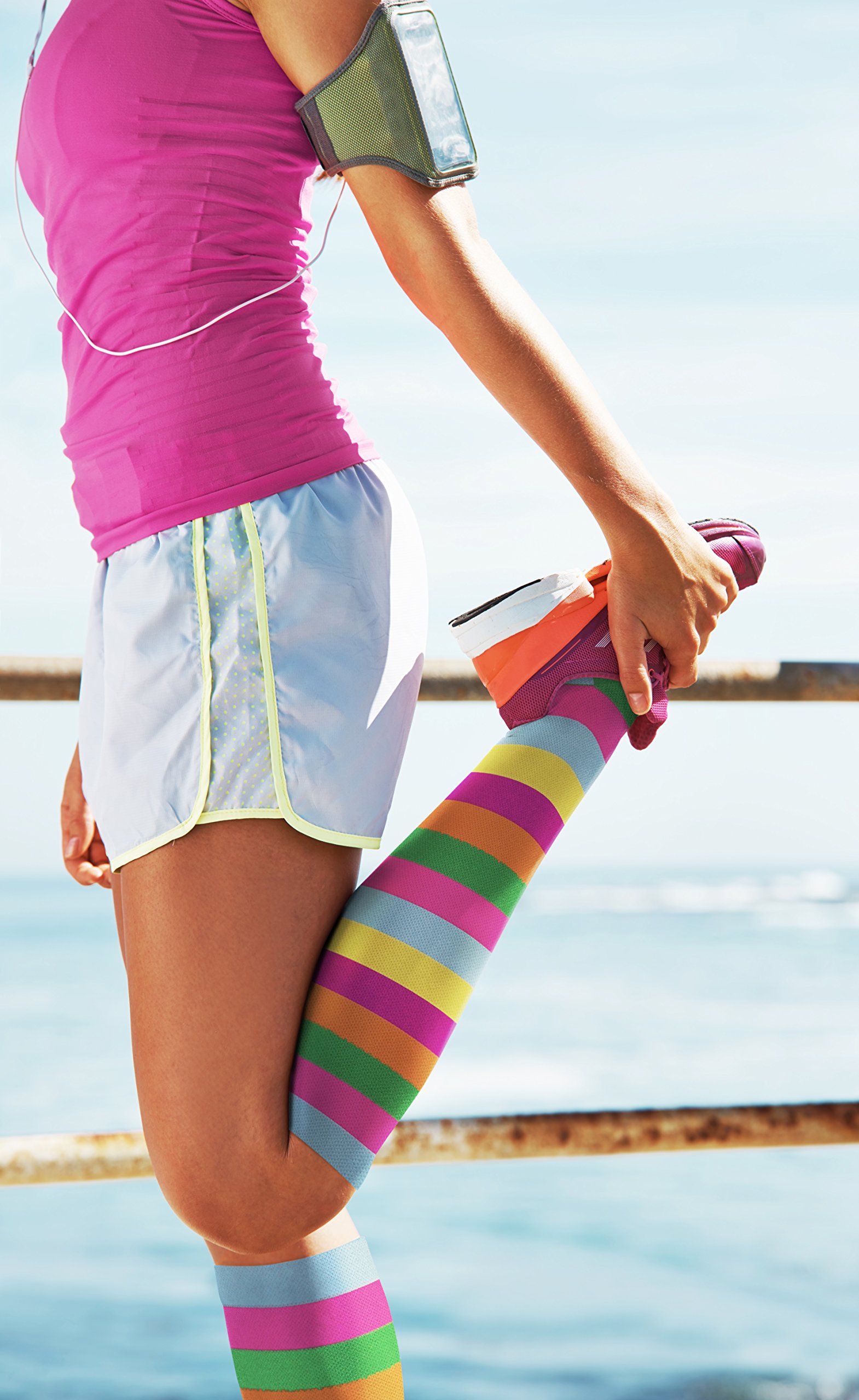 For example, leg compression socks are great for:
Reducing chronic circulation problems such as thrombosis, diabetes-induced complications, and spider or varicose veins

Preventing injuries and improving overall performance while playing sports

Aiding people who can't leave their bed or have difficulty moving their legs

Easing leg swelling during pregnancy

Recovery post-surgery

Helping people who constantly work in a standing position
These specially made socks are stretchy and tight. They come in various sizes and shapes, depending on their main purpose. They can be tighter or looser. When it comes to shape, they can look like a regular pair of stockings, but they can also be tubular. They can cover only the lower leg, but some also go all the way up to your thighs.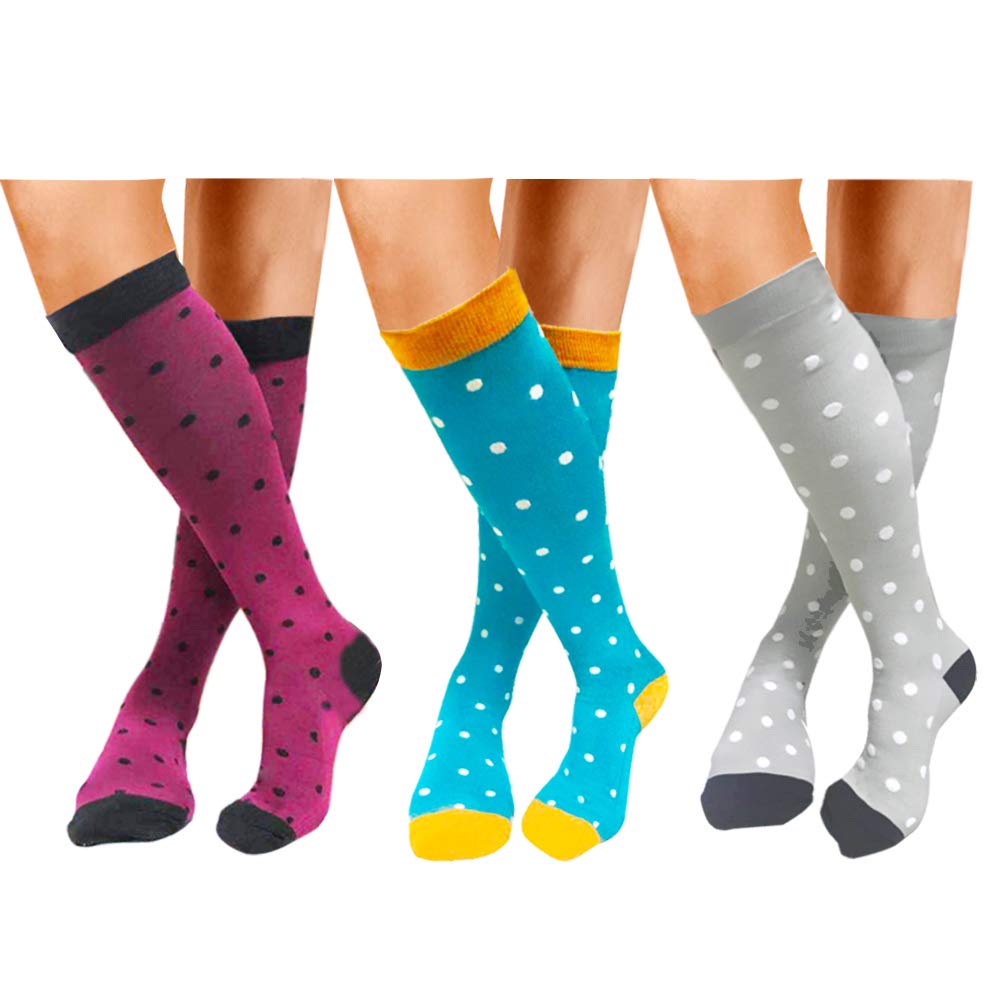 When you put them on, they will softly squeeze your ankle, loosening the grip as they move up to the lower leg. This pressure will increase the flow in your blood vessels.
Because of the improved circulation, blood will not have trouble moving around. This will also ease the pressure from your veins, so they can freely move the blood back up to the heart.
Compression socks also prevent blood clots since the blood won't gather in the veins. These clots can cause life-threatening complications if they start to roam around your body freely, and they also swellings or pain.
All in all, you have a lot to gain and nothing to lose by choosing to wear compression travel socks. Use them to prevent all the risks from above during long airplane flights.
Benefits of Compression Socks for Travel and Flights
Now that you know what travel and flight socks are, you should see some of the benefits. Since most of these benefits are long-term, you may not notice anything right away. However, you'll know that these socks have done their job if you don't feel any post-flight swelling and ache in your legs.
Besides reducing pain after flying, they can also:
Prevent deep vein thrombosis (DVT)

Stop lower leg swelling by ensuring a steady blood flow and no clotting in the vessels

Relax the veins and push the blood back to the heart

Keep the legs lively for walking after your flight

Prevent numbness in the legs and feet

Reduce the possibility of cramps
Note that airplane socks are beneficial for shorter flights too. If you're a frequent short-distance traveler, there is an equal risk of blood vessel complications. So consider getting a pair of flight compression socks anyway – you won't regret it.
How to Choose Best Compression Socks for Travel in 2019
Finding the best compression socks for travel is not an easy task. You may see stylish compression socks that prove to be too tight. On the other hand, some may be a perfect fit, but the way they look will put you off.
Where to Buy Compression Socks for Travel
Since these flying socks have multiple purposes, you can get them in many different specialized shops. You'll find them in sportswear shops as accessories, in pharmacies, and in various online shops.
If you already have issues with blood vessels in your legs, you should talk with your doctor before your flight. They may prescribe a particular type of socks that fit your situation. If you have a doctor's prescription, your insurance may cover the fee.
Depending on the type, size, and even the brand, compression socks can vary in price. However, most of them should cost somewhere between $8 and $30.
How to Choose Compression Travel Socks
In order to select the best flight socks for you, you should consider these factors:
Length of the socks

Pressure/weight of the socks

Size of the socks
For flying, it is best to choose socks that start below the knee. They are enough to keep a steady blood flow and reduce the risk of thrombosis and swelling. Longer socks may feel uncomfortable in a sitting position.
Socks that exert a lower pressure are a good option for some passengers. However, if you want to avoid DVT, you should get socks with a higher pressure. But you shouldn't feel a very tight grip, especially no pain. These socks should only feel close-fitting and warm.
The universal measurement for pressure is mmHg, this is used to express the pressure or weight of your stockings. The correct weight of compression stockings for long flights can vary. You should get socks with medium to firm levels of pressure for sitting on a plane. The medium level is from 15 to 20 mmHg, while firm pressure levels are around 20-30 mmHg.
You should be particularly careful when choosing the size of your socks. If the sock is too long and wide, the pressure will be nonexistent. Without pressure, compression stockings are useless. It's usually better to get a full sock instead of only tubular sleeves. When in a sitting position, it is important to keep the pressure on your feet as well.
So, when you're choosing the best compression socks for air travel, you should look for:
Below-the-knee length

A decent amount of pressure/weight

A snug, but painless fit, not too long and not too wide
How to Wear Them
The size and shape are not the only factors that determine the effectiveness of compression socks. If you want the socks to do a proper job, you will have to know how to wear them, too.
When you put on your compression socks, you should make sure they are sitting completely flat on your leg. If wrinkled, they will tighten in certain places and interfere with your blood flow.
If you only plan to use compression socks during your flights, you can put them on just before you depart, and take them off when you arrive. You can also wear them for a longer period without any concern, whether you're traveling a short distance or across the globe.